Ethanol is now considered to be a CMR substance in the Netherlands. Therefore IBN Productie in Oss has changed its inkjets for coding packaging to SIMACO consumables which do not use this solvent.
The legible coding adheres securely to the outer packaging.
"We were surprised and yet pleased about this news," says Johan de Laat. At the end of 2015 the Production Manager discovered that ethanol had already been on the list of substances which are carcinogenic, mutagenic or toxic to reproduction (CMR) in the Netherlands since the beginning of the year – during a visit to the Oss location of IBN Productie by the Ministry of Labour and Social Affairs (SZW).
The product marking company which specialises in packaging and repackaging tasks for well-known food producers used a black ink containing this potentially carcinogenic solvent until then. Its continued use would have threatened the health of the employees, that is, involved costly health and safety measures and the requirement to keep records: "that would create considerable administrative work because, among other things, a database would have to be set up to record all the employees who come into contact with ethanol."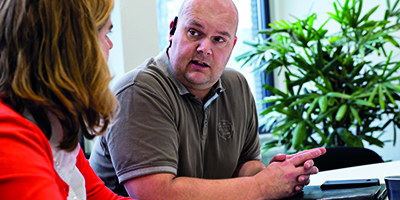 Risk-free alternative
Mr de Laat wanted to prevent this. IBN a socially conscious company which successfully integrates people who have almost no chance in the regular labour market has a special responsibility towards its employees. They are highly motivated and constitute the company's real capital. "We preferred to eliminate the danger completely instead of carrying out a risk assessment for them." Therefore a replacement had to be found for the printing ink "as quickly as possible" with which IBN could apply the best-before dates and the batch numbers on the packaging made of a wide variety of materials. It should not contain ethanol and nevertheless provide running, contrast and adhesive properties which are just as good as the original ink. However a corresponding request made to the inkjet manufacturer did not provide a prompt solution. That is why Mr de Laat consulted SIMACO GMBH which specialises in inks. Successfully: "SIMACO reacted in the right way. We had a suitable alternative within three weeks."
No wonder: after all the German company has a great deal of experience in the development of non-hazardous printing inks. According to Mr de Laat SIMACOLOR FPD2806171 without ethanol achieves an "excellent coding quality" when marking metal cans, stand-up pouches, folding boxes or complete supermarket displays. "Of course we tested this beforehand with SIMACO." The first IBN printer was converted shortly afterwards.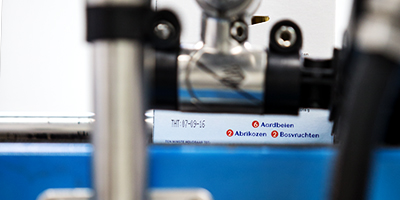 Smooth changeover
Daily operation confirmed the positive test results. Therefore IBN asked for a further five inkjets to be converted four weeks later. SIMACO responded within a few days with an offer which also included a complete service for the devices. The order followed promptly. And three weeks later SIMACO had adapted all the inkjets to the new, non-hazardous ink.
The changeover which was spread over several days went smoothly and "running production was not affected by it either." Since then IBN in Oss operates six coding devices maintained by SIMACO. Five of them are in use every day and another one serves as a backup. They all operate with consumables without CMR substances. "Just knowing that our people are no longer in contact with these substances is a comforting thought," says Mr de Laat. This now saves him extensive safety and documentation measures as a result. The Production Manager also assesses the SIMACO services positively: "It is important for IBN to work with reliable partners. SIMACO keeps to its agreements. Therefore we can continue to provide our customers with high quality products by the agreed date."
Go and convince yourself of the quality of CMR-free SIMACOLOR inks for non-hazardous inkjet coding: EMPACK 2016, 12th to 14th April, Jaarbeurs, Utrecht, stand D 117.